Welcome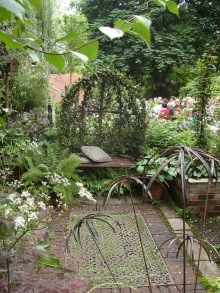 Based in Hampshire, Julie Pither Garden Designs offers a professional garden design service, working closely with clients to create a perfect outdoor living space that will enhance your lifestyle and your property.
The designs are tailored to complement each client's particular tastes, needs and budget, to produce a beautiful and functional garden to relax in and enjoy.
Whether you are looking for a complete redesign, revitalising existing borders, or simply wish to improve upon what you already have, Julie Pither Garden Designs offers a flexible, tailored service, which includes:
Design and planting plans
Individual border design
Plant supply and planting
Consultancy and guidance
Maintenance guides
For more information about the range of services on offer, see the services page, or visit the portfolio for details of previous garden design projects already completed.
To arrange an initial visit in order to discuss your ideas and design requirements and an opportunity to view portfolio pictures, please contact 01256 476708 or